Pastel pinks and blues reflect from the sky at dawn and dusk, painting gypsum dunes that roll elegantly across the landscape. The tapestry of light and shadow, form and texture tempts the creative mind. Yuccas punctuate the landscape, rising in striking graphic isolation against the sand and sky. This is New Mexico's White Sands National Monument, home of the world's largest gypsum dune field, covering 275 square miles, set in a high desert basin with a dramatic mountain backdrop. This will be our outdoor classroom for this Vision series workshop, a special program of advanced instruction designed and presented by world-renowned photographers Jack Dykinga and John Shaw. Jack is recognized as one of the greatest practitioners and teachers in the history of landscape photography, and John is a natural photographic educator who is relied upon by some of the most successful photographers in the business to keep them current on digital workflow practices and Photoshop techniques. The combination is a uniquely effective and enjoyable experience.
Our fieldwork during this workshop will emphasize the search for elegant, carefully crafted compositions while anticipating the flow of light over the landscape each morning and evening. Opportunities abound, from classic near-far compositions that use yuccas to anchor foreground design, to abstracts harnessing the tones, curves and colors of the dunes, to broad panoramics and macro subjects.
The creation of a great finished photograph is part of a process from initial concept and vision through execution in the field to digital workflow and creation of a high-quality, final master file ready for printing or publication. Vision workshops with John Shaw and Jack Dykinga address the two greatest challenges faced by photographers as they advance. The first of these is the tendency for original creative vision to reach a plateau in development, and the second is a digital workflow in need of streamlining and refinement to make the most of your images.
Click the "read more" button below right to continue…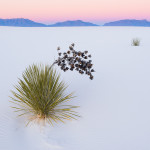 Visionary Wild is kicking off our program of world-class photography workshops and expeditions with a unique opportunity in British Columbia's remote and pristine Great Bear Rainforest, based out of the world-class King Pacific Lodge, September 5-12, 2011. This expedition is led by photographers Jack Dykinga and Daniel Beltrá, both of whom became intimately familiar with this threatened coastal ecosystem in September 2010, during a Rapid Assessment Visual Expedition (RAVE) organized by the International League of Conservation Photographers (ILCP). Justin Black of Visionary Wild will manage workshop operations and serve as assistant instructor.
There are few places on Earth where pristine temperate rain forest merges with a healthy and thriving marine ecosystem. Jack Dykinga characterizes the place beautifully: